Lamar Advertising of North Alabama Opens New Facility in Jetplex Industrial Park
May 25, 2021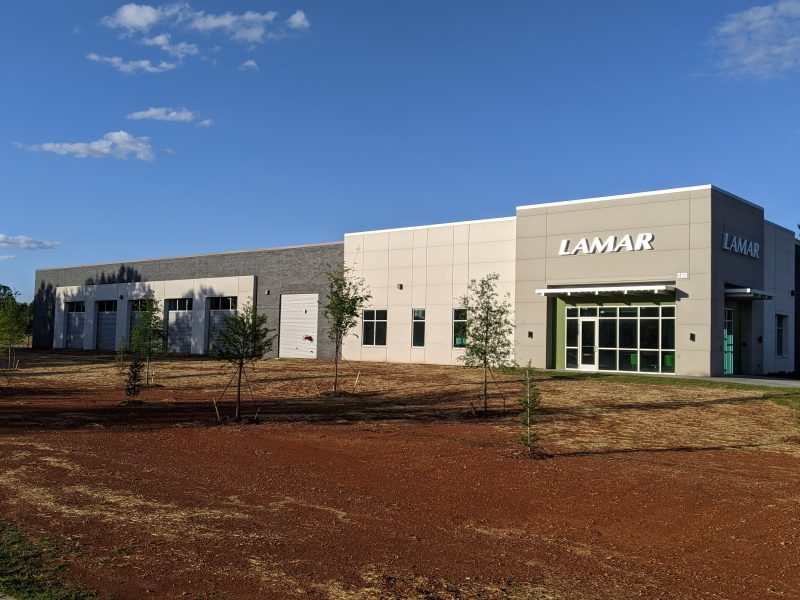 FOR IMMEDIATE RELEASE
Tuesday, May 25, 2021
 HUNTSVILLE, AL –
Lamar Advertising of North Alabama, a Baton Rouge based company that is one of the largest outdoor advertising companies in the world, began operations today in a new facility at the Jetplex Industrial Park at Huntsville International Airport in Huntsville, Ala.
"We are pleased to announce the newly formed Lamar Advertising of North Alabama, with the merging of the Huntsville and Decatur offices," said Jeff Handley, Lamar Advertising Vice President and General Manager of North Alabama. Our Huntsville location was acquired in 1998 which resulted in the Decatur market being split.  We are excited about the opportunity to join both operations and are relocating to a spectacular 15,500 sq foot facility in Jetplex Industrial Park which will service 1,774 panels in thirty-nine markets within a seventy-five-mile radius of Huntsville. The new facility will have twenty-four outstanding employees locally based to meet our customers' ongoing and future business needs."
"We are pleased to welcome Lamar Advertising of North Alabama as a partner at the Port of Huntsville," said Rick Tucker, CEO of the Port of Huntsville.   We are excited that they have made a commitment to continue serving the north Alabama market by relocating their Decatur and Huntsville facilities in Jetplex Industrial Park. Their combined operations will be in this newly constructed 15,500 sq ft facility and represents over $4.2 million in capital investment.  We work to provide our Jetplex Industrial Park tenants more than just a space for business but a helping hand in promoting and maintaining their business through community, regional, and media partnerships that the Port of Huntsville maintains."
SOCIAL MEDIA:
Twitter: @Lamaradvertising @FLYHSV @HuntsvilleCity @MadisonCountyAL  @huntsvillealcoc
Tweet This: @Lamar Advertising of North AL has relocated to a 15,550 sq ft facility
@FLYHSV  @HuntsvilleCity continues success and growth at Jetplex Industrial Park.
 About Lamar Advertising of North Alabama
Founded in 1902, Lamar Advertising Company (Nasdaq: LAMR) is one of the largest outdoor advertising companies in the world, with over 351,000 displays across the United States and Canada. Lamar offers advertisers a variety of billboard, interstate logo, transit and airport advertising formats, helping both local businesses and national brands reach broad audiences every day. In addition to its more traditional out of home inventory, Lamar is proud to offer its customers the largest network of digital billboards in the United States with over 3,600 displays.
Follow on FB: LamarNorthAlabama
260 Electronics Blvd, Jetplex Industrial Park, Huntsville, AL, 35824.
About Huntsville International Airport
The Port of Huntsville operating entities include Huntsville International Airport (HSV), International Intermodal Center, Jetplex Industrial Park, Signature Flight Support, Four Points Sheraton, Sunset Landing Golf Course and Foreign Trade Zone #83. Huntsville International Airport (HSV) is the largest commercial airport in North Alabama, serving over 1 million passengers annually. For more information, visit http://www.flyhuntsville.com/ or follow @FLYHSV, FB-Huntsville International Airport
###
Huntsville International Airport Contact:
Public Relations
Huntsville International Airport